Reconstruction of flats with sanitary units – kitchens and bathrooms
WE WILL RENEW YOUR BATHROOM OR SANITARY UNIT IN LINE WITH MODERN TRENDS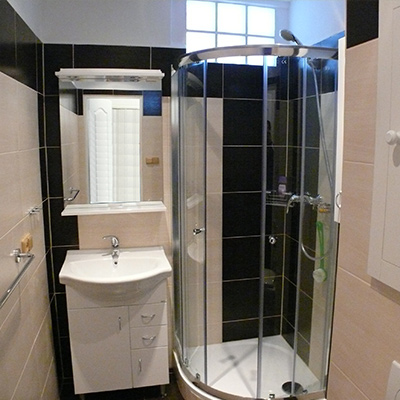 If you are no longer satisfied with your obsolete sanitary unit or a kitchen, utilize our services and revitalize your interior by a reconstruction. We accept your requirements in designing the kitchen and prepare a solution tailored to your needs. We will change your inconvenient sanitary core to a modern space.
We also provide the possibility of connecting the bathroom with the toilet on client's request. We perform all the proposals and arrangements after a meeting with the clients at the site, where we thoroughly measure and consult your ideas. Our specialists will prepare the design documentation and arrange for building permit if necessary.
LOOK AT OUR SELECTED PROJECTS
Renewal "refurbishment" of a bathroom
We refurbished a whole panel flat for our client in České Budějovice. The refurbishment involved a modification of the arrangement from the interior design to the complete implementation. read more
We wanted the designed arrangement to reflect the present trends and to provide more living space. We started with removal of the old fitting and fixtures and the flat equipment. We located a front loaded washing machine to the kitchen, which provided more space in the bathroom. We fitted the bathroom with a sliding door, a wall-mounted toilet, a shower enclosure with a bath. Floating floors with wooden decor were used in the remaining parts of the flat.
hide
Reconstruction of a block flat
We reconstructed an entire apartment for our client in České Budějovice. The refurbishment involved not only replacement of obsolete wiring but also the internal gas distribution system. read more
We replaced the old aluminium wires with copper ones and refitted the whole switchboard. Design covers of sockets and switches remained visible in the whole interior. Door frames were cut out and the openings modified to fit Sapeli interior and entrance doors. In the next step we completed vinyl floors at the client's request, the bathroom and the living room, which finally gave an impression of cosiness.
hide
Reconstruction of a sanitary unit and a kitchen
Another total reconstruction of a panel flat. The bathroom is situated next to a room with natural light, which was why we used an illumination window in the bathroom. read more
Proper illumination of the bathroom highlights the materials used and the colour solution. In the kitchen we used large tiles, which beautifully connect the kitchen space with the adjacent spaces of the hall and the living areas.
hide
I AM INTERESTED IN THIS SERVICE
To be able to set the price we need to know the existing situation. Please take time to take a photo.